Fast Tracks Magazine
Volume V, Dec. Issue

December 2011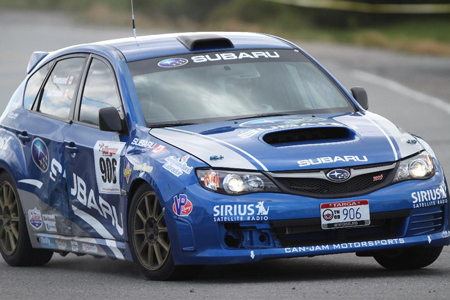 Premier Will Buy Your Car!

Many people are unaware of this, but Premier Subaru actively buys vehicles, of any make, model, or model year. We have found that, occasionally, the needs of clients change with respect to the vehicle they are driving, so selling your used car to Premier is extremely beneficial, as our clients receive a fair, market-based trade-in value for their car on the spot. We'll even pay off your loan or lease and provide you with a check for the difference.

For our Subaru clients, Subaru also has the

Guaranteed Trade-in Program

, so if your vehicle meets certain mileage and condition requirements, you are guaranteed a phenomenal trade-in value which is higher than Kelley Blue Book, Edmunds, etc.

If you are interested in trading or selling your vehicle, please stop by or contact us at 1(800) 411-4551so that we can arrange a convenient time for you to stop in for your no-obligation valuation.

- Brian Edward Canell, Editor-In-Chief.

Subaru wins 3 ALG Residual Value Awards


Subaru of America today announced that it has received three Residual Value Awards from ALG, the industry benchmark for residual values and depreciation data. The ALG Residual Value Awards recognize annually the vehicles predicted to retain the highest percentage of original price after a three-year period.

The company claimed the title of Best Mainstream Brand for the third year in a row. Subaru also earned Best Midsize Utility Vehicle and Best Midsize Car nods for 2012 Subaru Outback and 2012 Subaru Legacy, respectively. Award winners are determined through careful study of the competition in each segment, plus historical vehicle performance and industry trends. Vehicle quality, production levels relative to demand, and pricing and marketing strategies remain the key factors that affect ALG's residual value forecasts.

The Legacy's standard all-wheel drive, above-average fuel economy and spacious interior appeal to a wide swath of the market, helping to keep demand high, said Raj Sundaram, for ALG. With the brawny new generation of Outback, Subaru continues to build on its reputation for delivering what consumers want in a crossover, the handling of a car with great utility and roomy interiors.

Subaru is proud to be recognized as a brand that builds safe and reliable vehicles that deliver on our mobility promises and retain value for our owners, said Thomas J. Doll, executive vice president and chief operating officer, Subaru of America, Inc. We are honored to have again received ALG Residual Value Awards for our brand and two of our popular Symmetrical All-Wheel Drive vehicles.

Of the Best Mainstream Brand win, ALG's Sundaram remarked: Subaru continues to draw fiercely loyal devotees who appreciate the brand's strong quality and ability to remain practical yet progressive in its redesigns. Dependably low incentives and fleet sales have also enhanced its used market image, helping it to retain the top spot for mainstream brand for the third year in a row.

- Brian Edward Canell, Editor-in-Chief


Subaru Share the Love is Back!

Subaru of America kicked off its fourth annual Share the Love event Saturday, November 19. This year's campaign features five charitable beneficiaries and even more love, thanks to support from the Facebook community.

Subaru will donate $250 for every new Subaru vehicle sold or leased fromNovember 19, 2011 through January 3, 2012 to one of the following five charities: American Forests, the ASPCA®, Make-A-Wish Foundation, Meals On Wheels Association of America and Special Olympics.

Subaru also is inviting the Facebook community to allocate up to $250,000 in additional support to the five charities. Facebook users can participate by visiting the Share the Love Charities tab on the Subaru of America Facebook page. Within the tab, users are able to select one of the five charities participating in the event and submit their vote for that charity to receive a $1 donation from Subaru. Upon submitting their vote, participants may share the experience with friends and view what percentage of votes their charity has received.

Share the Love is rooted in our commitment to our customers and the causes they care about the most, saidAlan Bethke, director of marketing communications for Subaru of America. We are pleased to continue the program for a fourth year and are excited about the expansion to the Facebook community.

2011 Share the Love Charitable Beneficiaries
Facebook community voters and consumers who purchase or lease a new Subaru vehicle during this year's event can designate donations to any of the following organizations:


American Forests: restores and protects rural and urban forests worldwide. It is the oldest national conservation nonprofit in the country and the only one focused exclusively on forests.
The ASPCA® (The American Society for the Prevention of Cruelty to Animals®):works to rescue animals from abuse, pass humane laws and share resources with shelters across the country.
Make-A-Wish Foundation:grants the wishes of children with life-threatening medical conditions. It has granted more than 212,000 wishes in the United Statessince 1980.
Meals On Wheels Association of America:provides national leadership to end senior hunger, offering home-delivered-meal services to people in need.
Special Olympics:provides year-round sports and athletic competition in a variety of Olympic-type sports for children and adults with intellectual disabilities.

For more information, you can access the Share the Love page at this link:http://www.premiersubaru.com/sharethelove.htm

- Brian Edward Canell, Editor-In-Chief


Pre-Owned Specials

Late Models are hard to find, especially one-owner vehicles, and especially ones with a complete list of service records available. But we have good news - we have a Subaru Forester X Premium 2009 vehicle that meets all of that criteria. That means the vehicle comes complete with a power moonroof and power driver's seat, plus an impeccable CARFAX with no accidents listed!

2009 Subaru Forester X Premium

Fast Tracks Price: $19,887

Here's another fine one-owner specimen - a current generation Kia Optima LX. It is nicely equipped with features such as ABS b

rakes, Alloy wheels, Electronic Stability Control, Low tire pressure warning, One Owner, Remote keyless entry, Traction Control, and another CARFAX with no accidents. Premier always offers the best vehicles!




Fast Tracks Price: $18,887

These are only two of a large selection of pre-owned vehicles we have available! For more information, contact1(800) 411-4551 for Subaru or (203) 315-2050 for Kia.

Customer's Corner

Notes from Happy Customers!

We recently brought our 2010 Subaru Outback in for a flat tire that we believed was unrepairable. Being new to Subarus, this is our first, we then learned of therequirement to have all the tires pretty close in circumference for the All-Wheel Drive to work properly. Having 30,000 miles on the tires and with a good amount of life still on them, I was worried about having to buy four new tires at this time. You helped us with a used tire that had comparable wear as the other four tires and was much less expensive than replacing all of the tires. This attention to serving your customer was refreshing and confirmed that I will be back to you for the four new tires in the not too distant future.

- Andrew and Gretchen, Satisfied Subaru Sales Customers

Bob,

The buying experience for our Kia Soul was incredible. Steve and Luke were professional, courteous, personable, knowledgeable, and very helpful in helping us find a commuter vehicle for my wife. We have purchased a dozen cars on the last 20 years, from Hondas to BMW's to GMC and this was by the far the best experience that we have ever had. We will tell everyone that we know about your dealership and about the great value and product that KIA has produced.

We will send people directly to Steve, who did a great job of communicating with us through the process. We got the exact car we needed and working with your team was icing on the cake! Thanks.

- J.R. Satisfied Kia Sales Customer

Ted,

I am very happy with my Subaru Forester that you sold to me a few weeks ago. You and your co-workers are so hospitable and treated me with kindness, dignity and respect. Thanks so much for making my purchase day so enjoyable.


- Nancy, Satisfied Subaru Sales Customer

Chapters
Subaru ALG Awards
Subaru Share the Love

Pre-owned Specials
Customer's Corner
Premier For Charity
Adorable Adoptable Animals


Links

View inventory, schedule service

Our newest store!

ADDITIONAL SUBARU LINKS:

ADDITIONAL KIA LINKS:

Premier for Charity
- Toys for Tots Campaign is once again in effect!


For the 12th Consecutive Year, Premier Subaru is proud to participate in the Toys for Tots campaign. To ensure that our toy drive is the best ever, any customer purchasing a new or pre-owned Subaru or Kia from Premier and provides us with an unwrapped toy will receive a Premier Subaru Gift Card worth $50!

Of course, even if you're not buying a new or pre-owned vehicle, you can bring your new, unwrapped toy to Premier's Toys for Tots Drop-Off. Toys must be provided to Premier Subaru by December 16th at the latest.

For more information, you can also click here or here.

- Brian Edward Canell, Editor-in-Chief

Adorable Adoptable Animals


Here's the information on what the article is about

My name is

Simon

and I was abandoned during the hurricane with my brother Garfunkel and sister Carly. Luckily the nice people at the shelter(Branford, CT animal shelter - call

(203) 315-4125)

were able to catch us - and boy were we quick and unsure of humans! I really like people now and I am looking for my forever home. I am six months old and love to play and snuggle. Can't you just see me at home with you? You can see me and my brother Garfunkel at

http://www.petfinder.com/

.



Special Service Benefits
Premier Subaru is proud to have one of New England's largest loaner car fleets - we currently have fifteen current model-year cars that you can use if you are in for a major service or for a major repair. These vehicles are continuously checked by us to ensure that they provide you with safe transportation. Also, if you have purchased from us, the use of these cars is absolutely free! Please ask next time that you are in our service department for more details.
- Brian Edward Canell, Editor-in-Chief