The 2023 Subaru Love Promise Customer and Community Commitment Award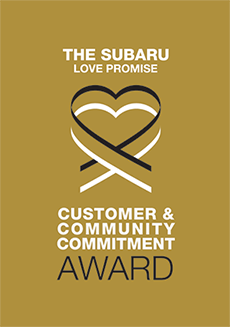 We've been nationally recognized for our dedication to our customers, our community, and the Subaru Love Promise.
We're honored to receive the 2023 Subaru Love Promise Customer and Community Commitment Award. This award nationally recognizes elite Subaru retailers who provide an exceptional customer experience at every interaction with Subaru. These retailers have also demonstrated an outstanding commitment to supporting passions and causes in their local communities in important areas such as the environment, community, health, education, and pets.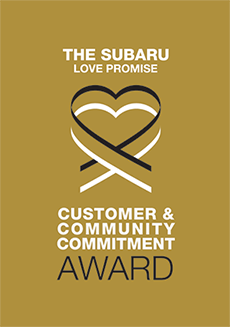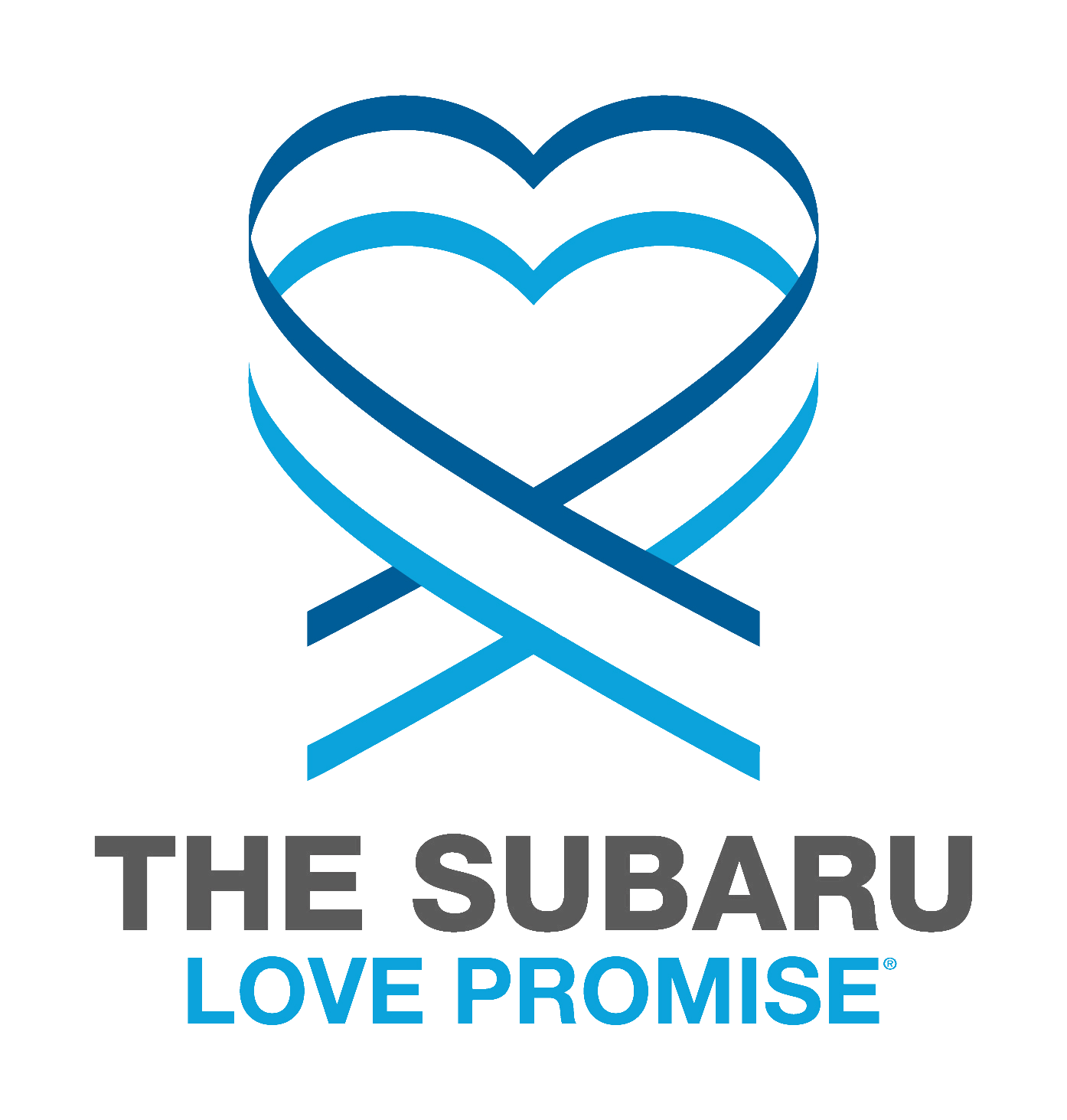 What is the Subaru Love Promise?
Subaru and our retailers believe in making the world a better place and the Subaru Love Promise is our vision of respecting all people. This is our commitment to show love and respect to our customers and to work to make a positive impact in the world.
How is Premier Subaru dedicated locally to the Love Promise?
At Premier Subaru, our Love Promise to the New Haven area can be seen in our proud support and sponsorship of many of our great local organizations. For more than 19 years, we have been proud to invest within the communities we serve. We are passionate about being more than a "car dealer" and, are determined to leave a positive footprint behind.
Branford Compassion Club, Dan Cosgrove Animal Shelter, ASPCA, Woofstock
The Branford Land Trust, The Shoreline Arts Alliance, The Branford Jazz on the Green
The University of New Haven, New Haven Legal Assistance, Branford Chamber of Commerce, Child & Family Guidance Center, The University of Rhode Island
Toys for Tots, JaneDoeNoMore, Christian Community Action, Branford Road Race, City of New Haven Arts & Entertainment Commission
SARAH Foundation, The Kennedy Center, The Branford Counseling Center, Camp Rising Sun, Smilow Cancer Center at Yale
Love Promise Stories from Premier Subaru
Subaru and Premier Subaru believe in making a positive impact on the communities in which we live and work. We uphold that belief through our Love Promise Community Commitment. Every month, we select inspiring stories from customers and partners from around our area who strive to support our collective commitment and feature them here
We Are One Inc. 💙 CT Grassroots Anti Human Trafficking Non-profit - Ashley P
Our Story… In 2022, our founders uncovered child and female sex trafficking literally hiding in plain sight within our New Haven County communities. After learning that survivors are silenced by fear, shame, and guilt, We Are One Inc. was founded with a vision to use our own dynamic, strong voices to speak for those who can't yet speak for themselves… Our Founders… Hi! I'm Ashley Phan, President & Co-founder of We Are One Inc. I'm a single girl mom, domestic abuse survivor, neurodivergent Fairfield University Alum, and a strong, opinionated half Asian woman. I'm using my dynamic qualities and colorful life experiences to be the voice for survivors who aren't yet able to speak now. Hi! I'm Abby Breau, Co-Founder of We Are One Inc. As a veteran real estate agent with New England Prestige Realty, I'm working tirelessly to advocate for human trafficking survivors by fighting for their basic housing human rights. As President of We Are One Inc., I'd like to personally express my gratitude to Robert Alvine of Premier Subaru Branford. He has followed along on social media encouraging me to continue my fight against human trafficking. As a Branford native, this local encouragement was vital to the growth of our organization. He was one of our first donors and has continuously supported us in our advocacy work for human trafficking survivors. Thank you Robert for your continued support. Thanks to your generosity, we are now providing essential resources to local human trafficking survivors! Together we will end human trafficking 💙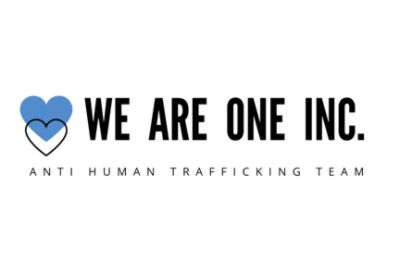 ---
Celebrating 40 Years of Cold Spring School with the support of Premier Subaru - Georgia L
In the fall of 1982, Cold Spring School opened its doors for the first time. Founded by parents who were seeking a small, independent school that would put each child at the center of their learning experience, CSS has become a model of progressive education for so many schools -- both locally and nationally. One of the key aspects that differentiates Cold Spring School is the relationships the school has established within the local community. Cold Spring School recognizes that true learning takes place both inside and outside of the classroom. Teachers and students take advantage of the rich resources of individuals, businesses, and organizations in greater New Haven and beyond. These connections and partnerships stem from the school's mission of having children "engage constructively and ethically in our diverse, changing world." This year, Cold Spring School is celebrating its 40th Anniversary. Over four decades, the school has served students and families who bring different perspectives, talents and resources. This range in our families' backgrounds is what continues to make Cold Spring School exceptional. As we were planning our milestone celebration, we realized that, to be truly inclusive, we needed to make attendance accessible to all of our community members. We reached out to Premier Subaru to ask for their support because they have been such strong supporters of their community. Premier Subaru generously offered to sponsor this event to help offset the costs for our guests. Because of their generous support, we have been able to offer tiered ticket prices and to ensure that the majority of our teachers and staff can attend. We are so grateful to Premier Subaru for being a committed community business.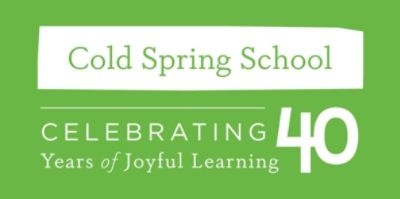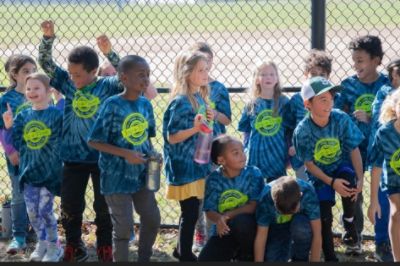 ---
Premier Subaru Supporting The Denise D'Ascenzo Foundation's "Walk to Fight Rare Diseases" - Kathryn C
THANK YOU BOB ALVINE AND PREMIER SUBARU A very heartfelt thank you to Bob Alvine and Premier Subaru for their generosity and continued support as an official sponsor of the Denise D'Ascenzo Foundation's "Walk to Fight Rare Diseases" held each Spring at Quinnipiac University. This year's walk took place on Saturday morning, April 29th and, despite less than optimum weather, was well attended and a great success. Proceeds from the walk went to the National Organization for Rare Disorders (NORD) and the foundation, not only raising funds for this worthy cause, but increasing public awareness of rare diseases and the challenges that they pose. The mission of Denise's foundation is to support advances in medicine and health, promote responsibility in the media, and assist those facing physical and mental challenges, while encouraging openness, courage and kindness in all endeavors. More information about the foundation and what we do can be found at TheDeniseFoundation.com. Again, thank you so much to Bob Alvine and Premier Subaru for their generosity and support of the "Walk to Fight Rare Diseases", along with the many other ways this wonderful business helps the community.

---
Such a help & Community member - Kathy F
I was at Premier Subaru for a service oil change when they were doing a presentation to a local camp for children with disabilities' or sickness, Camp Rising Sun. My car was ready in a flash thanks to their Express Service and my friend Maegan!! So I stuck around to watch them present a check for $100,000. Wow!! The Camp Director said that the other Premier store in Middlebury had given another $65,000 that morning. I was also aware from an earlier news article that the Premier organization had already given three cars away as well. Two of them to a very worthy veterans group and another to a local animal rescue center. This place is unbelievable in taking care of me and my car but what they do for others will never allow me to go anywhere else! I see/hear Subaru advertise that they are more than a car company..... let me tell you that Premier Subaru is More Than a Car Dealer. I'm so thankful! Even the owner Bob Alvine takes time to say hello to me when I'm in. K. F. V.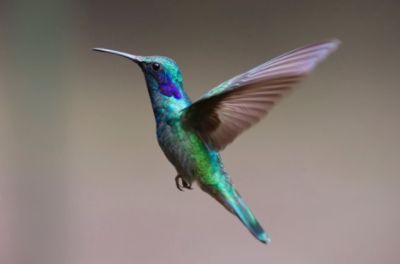 ---
$165,000 To Camp Rising Sun - Robert A
Robert J Alvine, President of Premier Subaru, presented Shawn Heffernan, CEO of Camp Rising Sun, with a checks totaling $165,000 at the dealership's facilities in Middlebury and Branford, CT. This donation, the largest yet by the company, represented the proceeds from the annual Subaru Share the Love® Event, in which anyone who purchased or leased a new Subaru could chose a $250 donation to one of four national charities – ASPCA, Make-A-Wish Foundation, Meals on Wheels Association of America, the National Park Foundation – or a fifth local charity for their customers to support. Premier Subaru selected Camp Rising Sun as their hometown charity for the 2022-2023 Share the Love Event for the seventh year in a row. Premier Subaru and Premier Subaru Middlebury are proud to have provided a 100% matched dollars from Subaru of America directly to provide additional impact to Camp Rising Sun. This included a portion of every service repair order completed during the campaign as well. "Our customers have the choice of five different amazing charities, and, nearly every single one chose Camp Rising Sun" said Mr. Alvine. "We are honored to continue to be a partner in supporting such a deserving organization." Camp Rising Sun was designed to provide a safe, nurturing environment to children ages 5 through 17 who have been diagnosed with cancer. Camp Week takes places at Camp Jewell YMCA in Colebrook, CT. Camp Rising Sun has been around since 1983 and has grown to well over 100 campers each year. The dollars provided by Premier Subaru, under the most recent Share the Love Program, will support more than 150 campers this year. Over the last 15 years, through the Share the Love Event, Subaru of America and its participating retailers have donated more than $256 million to charity, with customers choosing between four national charities and over 1,440 hometown charities. Premier Subaru has donated more than $550,000 to Camp Rising Sun in the last 7 years – and supported more than 350 campers. Premier Subaru is located at 155 North Main Street, Branford, CT 06405. Premier Subaru Middlebury is located at 1660 Straits Turnpike, Middlebury, CT. Premier Subaru is a Subaru Love Promise Gold Retailer for more than 13 years running, plus have been A+ rated with the Better Business Bureau since 2001. Premier Subaru Middlebury is a continual award winning Love Promise Community Award Winner and also an A+ rated dealership with the Better Business Bureau. Both Premier Subaru and Premier Subaru Middlebury have also been involved in a number of philanthropic organizations including the Connecticut Cancer Foundation, Meals on Wheels, the Harold Leever Regional Cancer Center, Toys for Tots, The Dan Cosgrove Animal Shelter, the Branford Compassion Club, The Branford Jazz on the Green Series and many more. For more information on Premier Subaru, visit www.premiersubaru.com. Information on Premier Subaru Middlebury can be found at www.premiersubarumiddlebury.com.
---
Premier Donates a Subaru Ascent to the Dan Cosgrove Animal Shelter - Stephen F
In a recent act of kindness, Premier Subaru donated a Subaru Ascent to the Dan Cosgrove Animal Shelter in Branford. This donation was made to support the shelter's efforts to provide a better quality of life for animals in need. Dan Cosgrove Animal Shelter is a no-kill shelter that provides shelter, food, medical care, and adoption services for homeless pets in the Branford area. The shelter is dedicated to promoting responsible pet guardianship and working to end the overpopulation of feral cats in the community. Their mission is to protect the public, provide excellent animal care, find good homes for their animal guests, and to run a well-organized, efficient shelter with a rehabilitation through education philosophy. Bob Alvine, President of Premier Subaru, talked about the importance of supporting local organizations like the Dan Cosgrove Animal Shelter: "We are thrilled to be able to support the Dan Cosgrove Animal Shelter with this donation. Their commitment to animal welfare and responsible pet ownership aligns with our own values as a dealership. We hope that this donation will help the shelter continue their important work of providing a safe and caring environment for animals in need." Premier Subaru's Ascent donation will help the shelter's staff and volunteers transport the animals safely and comfortably. This three-row SUV has ample space for the animals to ride in, as well as plenty of room for necessary supplies. This donation will go a long way in helping the Dan Cosgrove Animal Shelter provide better care for the animals in their charge. Dan Cosgrove Animal Shelter's dedication to animal welfare and responsible pet ownership has made a positive impact on the Branford community. The shelter's efforts to provide a safe and caring environment for animals in need align with Premier Subaru's commitment to making a positive impact on the lives of those around them. Premier Subaru is proud to support the Dan Cosgrove Animal Shelter in their important mission.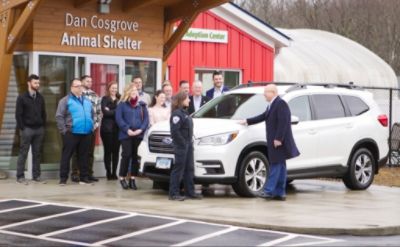 ---
Huneebee Project is forever grateful to Premier Subaru! - Sarah T
As a founder and ED of a New Haven based non-profit that is committed to creating equitable employment opportunities for local youth through beekeeping, and that operates out of eight different sites around the state, I drive A LOT. My hardy Forester is frequently filled with teens, bee hives, lumber for garden beds, soil, honey extracting equipment, my inseparable greyhound... the list goes on and on. Every now and then, at the end of the bee season, I treat myself to a deep car clean. When I showed up on Wednesday, the man who waved me in said, "You here for the giant lump on the tire?" I panicked, seeing dollar signs coupled by a series of flashbacks. A few weeks ago, I acquired a new hat, and the car, too. I began giving weekly driving lessons to our youth. We're committed to eliminating every barrier possible to allow for our team to be successful and achieve their dreams- and transportation is a big one. Several of our youth travel over one hour each way by bus to get to our office for their work shifts, and have been sitting on their permits for well over a year, some two years. It takes having a trusted, reliable adult, with free time, and a license, and a car, and the resources to withstand any damages to said car, to secure driving hours and instruction. Not something that's available to everyone. So now, on Thursday mornings, I pick up two 19-year-olds from their homes, and we go to the Ikea parking lot to practice three-point-turns and parking and operating the windshield wipers... A few days prior to showing up at the shop for my long awaited deep car clean, we took our driving lesson to the road for the first time. 10 minutes in, we were aggressively riding the curb. Terrifying, and, as I reassured the new driver, a learning experience and something that she certainly wouldn't be allowing to happen again! I didn't hear a pop, or a scratch, so naively (denial?) thought that my indomitable Forester had somehow made it out unscathed. Fast forward to "you here for the giant lump?" It hadn't. Maegan, my service advisor, took care of me immediately and, coincidentally, Bob, President of Premier, was walking by as I was sharing my story. He listened. It felt human. Real, genuine, not rushed. I didn't feel like a customer or a transaction. In the end, Subaru donated a tire replacement, and provided me with a complimentary car detail. Since starting the organization in 2018, I've interacted with plenty of donors, sponsors, and funders. This experience was one of the infrequent and special ones. It gives me renewed hope in our community, and in the presence and power of self-less, spontaneous giving. Thank you, Premier Subaru.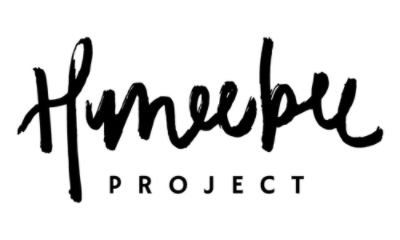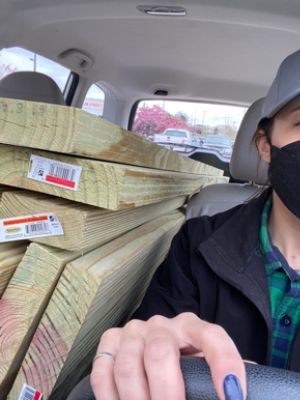 ---
Premier Subaru in Branford CT Donates a vehicle to a U.S. Military Family on Veteran's Day. - Robert A
Premier Subaru in Branford spent this past Veteran's Day showing a local military family how truly appreciated their fallen hero is for his commitment and sacrifice to the U.S. In partnership with the Military Warriors Support Foundation (MWSF), the dealership presented a Subaru Forester to the family of the late U.S. Army Master Sargent Michael David Clark. Rachel was selected to receive a Subaru after applying to MWSF's Transportation4Heroes program, which includes a rigorous vetting process to ensure selected veterans and/or their families are the most deserving recipients. MWSF then worked directly with Premier Auto Group to present the payment-free vehicle in a celebration on Veteran's Day at Premier Subaru in Branford. U.S. Army Master Sergeant Michael David Clark was born in Springfield, Mass. and grew up in Glastonbury, Conn. He joined the military in 2000 and served with honor, receiving several awards throughout his distinguished 22 years of service—including the Bronze Star Medal, Combat Action Badge and Combat Medical Badge. During training at Fort Gordon, Ga., prior to his next deployment, Michael tragically succumbed to injuries sustained in a lightning strike. He is survived by his wife, Rachel, and their two children. Premier Subaru President Bob Alvine was focused on dedicating his auto group's latest giveaway to veterans in acknowledgement of our nation's most cherished individuals. Bob and his team have taken great pride in being able to help Michael's family as they navigate challenging times. The MWSF is a 15-year-old 501(c)(3) non-profit charity founded by Retired LTG Leroy Sisco, with a mission of providing crucial transitional support for our nation's combat-wounded heroes, Gold Star spouses, and their families. Its programs focus on transportation assistance, housing and homeownership, recreational activities, and leadership development. The Foundation is on its way to awarding more than 145 payment-free vehicles and 1,000 mortgage-free homes across all 50 states. Premier Auto Group Subaru joined forces with MWSF for the giveaway, with the Foundation selecting the deserving recipients through their application program and Premier Auto Group donating the brand-new vehicles. The Veteran's Day giveaway supports Subaru's nationwide corporate commitment to giving back. Connecticut's Premier Auto Group is proud to have dedicated its 2022 Veteran's Day to such a worthy cause and honoring two deserving recipients with the gift of safe, reliable transportation.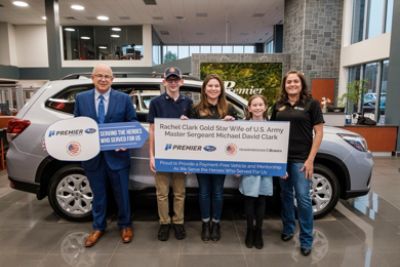 ---
Cats with cerebellar hypoplasia find their forever home - Lena C
While this story doesn't exactly pertain to a Subaru retailer or a Subaru-specific event, we still wanted to share this story about how these two special needs cats got a home and how Subaru as an organization is playing a big role in helping our shelter save more animals' lives. Earlier this year, our shelter, along with many other shelters across Connecticut, were hit with an outbreak of a very contagious and very deadly virus called panleukopenia. It was an extremely stressful time for all of our staff members as we not only had to take all measures to contain the spread of the virus throughout the shelter, but also had to constantly drive back and forth from the emergency vet hospital (which is an hour's drive from our shelter) with the cats that were infected to try to treat them and save their lives. One of our pregnant cats transmitted the virus and while she eventually pulled through, she passed the infection to her unborn kittens and they were all born with cerebellar hypoplasia. Most of the litter did not survive, with the exception of two kittens named Stormy and Drizzle. For months, we drove these kittens to and from specialty vets, went through medications, helped them feed and use the litter box, until they were free of the virus, even if they would have CH for the remainder of their lives and have tremors forever. We're so happy to say that in October, we found one forever home for both of these special-needs kittens. As we prepare for the opening of our new animal shelter, we have been working with Subaru on acquiring two new vehicles for our shelters. These vehicles will be used by the Animal Control Officers of Branford and staff at the shelter to not only carry out all animal control duties, but also transport animals in need, like Stormy and Drizzle, to the emergency, specialty and primary care veterinary hospitals safely. Our shelter has never had a new vehicle, let alone a vehicle outfitted with the needs of animals in mind. Vehicles we use have had holes in them, the doors have come off when opening and shutting them, seats are broken, and have generally been unsafe for both humans and animals. We are so excited and grateful for Subaru for helping us get new vehicles that we can safely use to rescue more animals.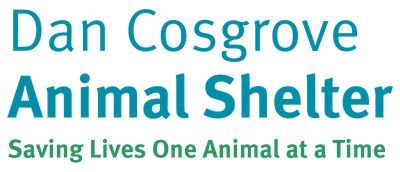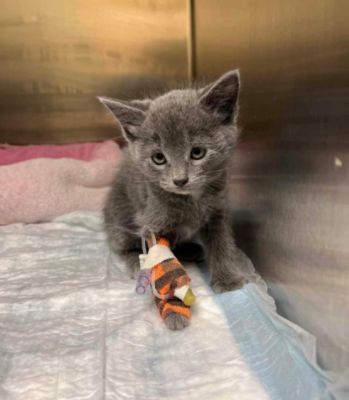 ---
50th Birthday of the Edith B Jackson Child Care Program - Robert A
The Edith B. Jackson Child Care Program was established in 1972 by a group of Yale parents and faculty members in response to the growing need for quality care for children. Dr. Deborah Ferholt (Pediatrician and Associate Professor of Pediatric Nursing) and Dr. Sally Provence (Professor of Pediatrics) developed the EBJ model, with the strong support of the Yale Child Study Center. The program is named in honor of Dr. Edith B. Jackson, a faculty member of the Yale School of Medicine Department of Pediatrics (1923-1959), and a true pioneer in the fields of behavioral pediatrics and child psychiatry. She is well-known for advocating that pediatricians practice anticipatory guidance and assist in the emotional growth and development of young families. Between 1946 and 1953 she directed the Rooming-in Project—where babies stayed with their mothers, instead of spending the majority of the time in the hospital's nursery—and made Yale the center for humanizing hospital experiences surrounding the birth of a baby. It is because of Dr. Jackson that both mothers and fathers of newborns began to have free access to their child while still in the hospital. Throughout her life, Edith B. Jackson was committed to providing the most sensitive care to parents and children. EBJ remains as a living memorial to her lifetime commitment to the welfare of infants, children, and families. In its beginning, the program offered care for young children in the graduate housing apartments at Yale's Whitehall complex, where many of the providers lived. Each provider cared for four children within her home, offering nurturing, small-group care in a family setting. With the generous support of Dr. Albert J. Solnit (Yale Child Study Center), EBJ was able to appoint Lola Nash as its first director. Lola knew that the best child care programs should reflect what is best about family life: "all the support, intimacy, solace, caring for each other and good sibling relationships." In 1989, EBJ restructured its program and began providing center-based care for young children, three months to five years old. The nurturing aspects of in-home care—small groups, continuity of care, and consistency of care giving—remain the important qualities for which EBJ is well known. Still in the Whitehall Graduate Housing complex, EBJ's classrooms now occupy four apartments, each with its own small group of eight or twelve young children and two to three experienced, well-trained teachers. The Child Care Program celebrates it's 50th birthday in the 2022-2023 academic year - and, Premier Subaru is proud to be a sponsor.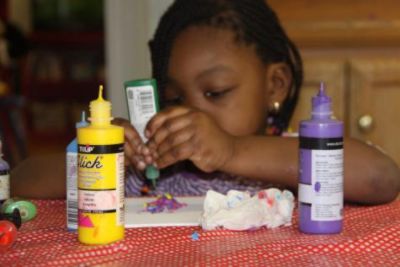 ---