The 2021 Subaru Love Promise Community Commitment Award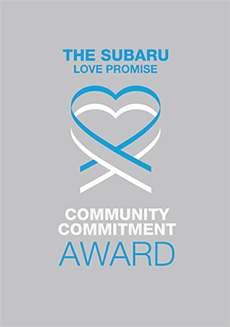 We've been nationally recognized for our dedication to our community and the Subaru Love Promise.
We're honored to receive the 2021 Subaru Love Promise Community Commitment Award. This award nationally recognizes Subaru retailers who are making the world a better place while demonstrating an outstanding commitment to supporting passions and causes in local communities. These efforts are focused in important areas such as the environment, community, health, education, and pets.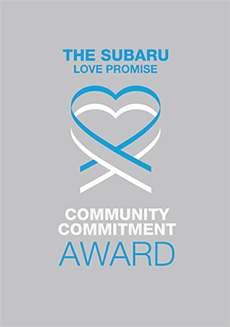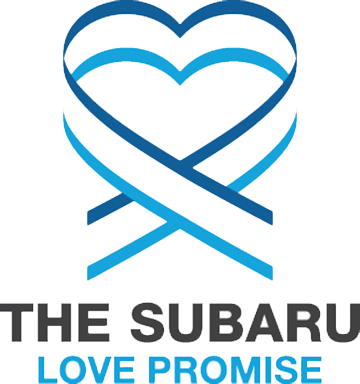 What is the Subaru Love Promise?
Subaru and our retailers believe in making the world a better place and the Subaru Love Promise is our vision of respecting all people. This is our commitment to show love and respect to our customers and to work to make a positive impact in the world.
How is Premier Subaru dedicated locally to the Love Promise?
At Premier Subaru, our Love Promise to the New Haven area can be seen in our proud support and sponsorship of many of our great local organizations. For more than 19 years, we have been proud to invest within the communities we serve. We are passionate about being more than a "car dealer" and, are determined to leave a positive footprint behind.
Branford Compassion Club, Dan Cosgrove Animal Shelter, ASPCA, Woofstock
The Branford Land Trust, The Shoreline Arts Alliance, The Branford Jazz on the Green
The University of New Haven, New Haven Legal Assistance, Branford Chamber of Commerce, Child & Family Guidance Center, The University of Rhode Island
Toys for Tots, JaneDoeNoMore, Christian Community Action, Branford Road Race, City of New Haven Arts & Entertainment Commission
SARAH Foundation, The Kennedy Center, The Branford Counseling Center, Camp Rising Sun, Smilow Cancer Center at Yale
Love Promise Stories from Premier Subaru
Subaru and Premier Subaru believe in making a positive impact on the communities in which we live and work. We uphold that belief through our Love Promise Community Commitment. Every month, we select inspiring stories from customers and partners from around our area who strive to support our collective commitment and feature them here
Hillhouse High School Auto Shop Program - Robert A
On Wednesday, November 10, 2021, Premier Subaru attended the grand unveiling of the brand new automotive technology program at Hillhouse High School in New Haven, Connecticut. The program is a two part high school training and college-credited course program that will provide high schoolers a pathway into the automotive job sector. Premier Subaru donated all of the shop equipment for the program. The opening of this program ends a six year pursuit by Hillhouse Principal James Worthy who has been on a mission to create career pathways for his students. The shop's architect, Del Simmons, created the design plans for the former Hillhouse storage room turned automotive shop at no charge. Mr. Simmons also designed the Premier Subaru facility in Branford, Ct. State Representative Toni Walker helped the program secure the funds necessary for creating the space - but, had no further funds for equipment. That is where Premier Subaru stepped in. Bob Alvine, President of Premier Subaru, donated all of the equipment, including lifts, benches, tire balancers, tire machines and other items. According to Mr. Alvine "It is imperative for us to invest in students today as the technology of tomorrow will require the best and the brightest. There are many pathways to success that don't require a four year degree. We are so honored to be a part of this amazing program." The Hillhouse High School automotive training program is run in partnership with The Justice Education Center and Gateway Community College.
---
Fallen Firefighter Ricardo Torres - Robert A
New Haven Firefighter Ricardo Torres, Jr., died a hero on May 12, 2021 while responding to a fire on Valley Street in New Haven. He was the loving husband to Erica Martinez, a loving and caring father to their son Oliver Torres – and, father to Crew Torres who was born in August, 2021 – following his death. Premier Subaru provided the family with a direct monetary donation – while the employees of Premier Subaru donated baby clothes, diapers and household items. Premier Subaru were finally able to connect with the New Haven Firefighters in October, 2021 to facilitate the donations and, thank them for their dedicated service to our community. Ricardo Torres, Jr., will always be remembered and a hero in our community.
---
Branford's Animal Awareness Day - Robert A
Premier Subaru is proud to once again sponsor Animal Awareness Day hosted by the Branford Compassion Club Feline Rescue and Adoption Center. This event is held on the Branford Connecticut Town Green on Sunday, October 3, 2021 from 12pm to 4pm. In addition to the "Blessing of the Animals", the event has children's activities, a dog kissing booth, a pet photo contest, live music, mini-therapy horses and a search and rescue dog demonstration. The event is one of the largest fundraisers for the Branford Compassion Club. The BRANFORD COMPASSION CLUB was founded in 1997 to care for a growing number of feral cats in the community. Through TNR (trap, neuter, return) policies, countless feral cats have been sterilized and vaccinated and returned to their colonies. Since we began keeping official records in 2008, we have found loving homes for more than 2,500 rescued cats and kittens. Thanks to community support and over 100 volunteers, food, shelter and veterinary care is provided every day to our shelter residents and feral cats living in managed colonies. Premier Subaru has been a proud supporter of the Branford Compassion Club for more than 20 years.
---
Cure Rare Disease - Robert A
Premier Subaru was involved, for the second year in a row, in the annual fundraiser in Branford, Connecticut for Cure Rare Disease as a major sponsor. The proceeds of this fundraiser will go towards the development of customized therapeutics for individuals that have the genetic mutation of the rare disease of Duchenne. For countless patients, having rare and ultra-rare genetic mutations means they are left behind by the pipelines of established biotech companies who remain focused on treatments that impact the greatest numbers of patients. At Cure Rare Disease, their researchers then develop cell lines to test and optimize in-vitro (in a dish) the therapeutic strategy, then in-vivo (in animal models). They work closely with the FDA with an emphasis on patient safety and drug efficacy. As many as 7,000 rare diseases impact up to 30 million Americans. One of them is Duchenne muscular dystrophy, a degenerative condition caused by a mutation on the DMD gene, which is responsible for the production of dystrophin, a protein that helps muscles recover. Traditional one-size-fits-all therapeutics leave millions behind. The revolution in genomics has given Cure Rare Disease the technology to target and treat genetic typos with precision so no patient is left behind. Premier Subaru is proud to provide a financial impact to the individuals behind the amazing organization of Cure Rare Disease in their pursuit for a cure.
---
Yale New Haven Hospital Golf Classic - Siri L
Premier Subaru was proud to sponsor a hole in one car for the Yale New Haven Hospital Golf Classic. Proceeds from this year's event will help to expand Yale New Haven Hospital's state-of-the-art cardiac catheterization labs. These hybrid labs are the only ones in Connecticut and utilize high-definition imaging to enable minimally-invasive surgery to replace open heart procedures for patients unable to undergo major operations. Premier Subaru provided a 2021 Subaru Outback Limited as a special Hole In One Car for the 9th hole at the New Haven Country Club. More than 200 players participated in this years event.
---
Premier Subaru helps Seth's wish come true! - Robert A
Back in April, four-year-old Seth met Godzilla, part one of his Make-A-Wish. Part two was realized Saturday. This spring, WPLR's Chaz and AJ, teamed up with "Make-A-Wish" Connecticut and raised $10,000 in a day to help grant a wish for the boy who was born with a heart condition that required surgery when he was just five days old. Seth's wish was to take a camping trip down south in an RV with his family and $10,000 needed to be raised. So the radio personalities got to work. In April, AJ donned a Godzilla costume, Seth's favorite, and spent a day with the boy and his family and friends, including Branford police. This past Saturday, Seth and his family got aboard the RV and set out for their adventure from Branford Town Hall on the Branford Green. The seven-day journey takes Seth and his parents and siblings to Delaware, Virginia Beach, the North Carolina Outer Banks, Gettysburg, and back to Connecticut. And once again, Godzilla made an appearance. Make-A-Wish Connecticut Director of Major Gifts Kim Pugh thanked "Chaz and AJ and The Tribe for creating hope for wish kids, like Seth, when they need it most." Involved in making his wish come true, and thanked for their efforts by Chaz and AJ, are the town of Branford, the Branford Police Department, the Branford Fire Department and Premier Subaru of Branford.
---
It It A PAWS FOR CELEBRATION! - Laura B
Premier Subaru is proud to be sponsoring the Paws for Celebration Gala on Thursday, June 24, 2021 to benefit the Dan Cosgrove Animal Shelter in Branford. The team at the Cosgrove Shelter is planning a new shelter to serve the Shoreline. Their current shelter will be fully renovated and lots of new space will be added. Premier Subaru is proud to be a sponsor of this renovation and expansion initiative to support renovated kennels, new cat rooms, space for sick and pregnant cats, a pet food pantry, community room, pet visiting rooms, new ventilation, outdoor play areas and trails. The Gala is to be held the Pine Orchard Yacht and Country Club on June 24, 2021.
---
Premier Subaru Supports Animal Awareness Day - Peg J
Premier Subaru sponsored Animal Awareness Day organized by The Branford Compassion Club. Premier Subaru has been involved with the Branford Compassion Club since 2000. Branford Compassion Club was founded in November 1997, by a handful of compassionate Branford residents concerned with the growing population of feral cats. The residents united to form BCC to alleviate the hunger and suffering of feral cats in this community. In 2020, despite the pandemic, the Branford Compassion Club rescued 301 felines and found homes for 220. With their average monthly veterinary bill at $9000, and, with limited fundraising during COVID19, the Club truly relies on support. Premier Subaru is proud to support the Branford Compassion Club.
---
The Cosgrove Animal Shelter Receives Help - Laura B
For the months of February, 2021 and March, 2021, Premier Subaru collected necessary items for the Dan Cosgrove Animal Shelter in Branford, CT. The shelter is a no-kill shelter servicing the town of Branford and the shoreline of Connecticut at large. As a part of Premier Subaru's continued LOVE PROMISE commitment, Premier Subaru selects an organization every 60 days to conduct a showroom drive with. When it came time for February and March, 2021 - the team was unanimous in their desire to collect needed items for the Dan Cosgrove Animal Shelter. The mission of the Shelter is: Our mission is to protect the public, provide excellent animal care, find good homes for our animal guests, to promote responsible pet guardianship, to work to end the overpopulation of feral cats in our community, and to run a well organized, efficient shelter with rehabilitation through education philosophy. Thanks to the donations of Premier Subaru's employees and clients - Premier Subaru filled a van full of necessary pet items for donation.
---
Make Seth's Wish Come True - Robert A
Premier Subaru and WPLR 99.1 Radio personalities Chaz and AJ will be raising at least $10,000 for Make a Wish Connecticut to help 4-year old Branford resident Seth, who suffers from having only half a heart, has his dream of going on a RV camper vacation with his entire family come true. Seth is a huge fan of Godzilla. AJ will dress in a Godzilla costume and will walk around Branford, Guilford and Madison, CT. AJ starts his walk from the showroom of Premier Subaru at 9am on April 14, 2021. Listeners will donate to get AJ to a certain number of steps. AJ will do this from the middle of their morning show until nightfall on both Wednesday, April 14th and Thursday, April 15th. Seth is now 4 years old, but, when he was born, he was born with essentially half a heart and other surrounding areas were malformed. Seth needed open heart surgery immediately after he was born. Seth spent months in the hospital in Boston. Carole, Seth's mom, who is a nurse, had to stop working. Seth's dad Jason couldn't be at the hospital as he was home with their other two sons. Eventually, Carole had to take early retirement to care for Seth. Seth's vocal cords were paralyzed during his first surgery and had no voice that led to Tracheotomy surgery to insert a trach to help him breath. Seth became mute at 4 months old because of this. They never knew if Seth would speak. Seth had a second open heart surgery at 5 month old. At 19 months, Seth got his one vocal cord back and had limited voice. After a 3rd open heart surgery, Seth now 4, is doing much better. In 2018, during a fundraiser for Seth at a local CrossFit, Seth's dad Jason collapsed from a heart attack and had to be airlifted to a hospital. Thankfully, Jason survived and is doing well. Premier Subaru is proud to be donating to this outstanding cause and sponsoring this walk for Seth!
---