The 2022 Subaru Love Promise Customer and Community Commitment Award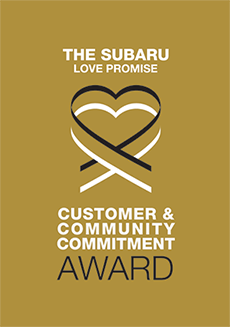 We've been nationally recognized for our dedication to our customers, our community, and the Subaru Love Promise.
We're honored to receive the 2022 Subaru Love Promise Customer and Community Commitment Award. This award nationally recognizes elite Subaru retailers who provide an exceptional customer experience at every interaction with Subaru. These retailers have also demonstrated an outstanding commitment to supporting passions and causes in their local communities in important areas such as the environment, community, health, education, and pets.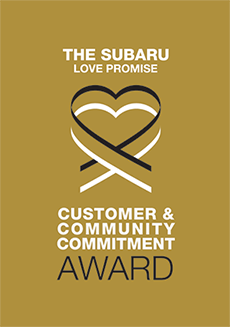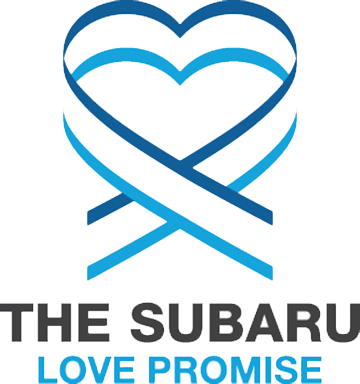 What is the Subaru Love Promise?
Subaru and our retailers believe in making the world a better place and the Subaru Love Promise is our vision of respecting all people. This is our commitment to show love and respect to our customers and to work to make a positive impact in the world.
How is Premier Subaru dedicated locally to the Love Promise?
At Premier Subaru, our Love Promise to the New Haven area can be seen in our proud support and sponsorship of many of our great local organizations. For more than 19 years, we have been proud to invest within the communities we serve. We are passionate about being more than a "car dealer" and, are determined to leave a positive footprint behind.
Branford Compassion Club, Dan Cosgrove Animal Shelter, ASPCA, Woofstock
The Branford Land Trust, The Shoreline Arts Alliance, The Branford Jazz on the Green
The University of New Haven, New Haven Legal Assistance, Branford Chamber of Commerce, Child & Family Guidance Center, The University of Rhode Island
Toys for Tots, JaneDoeNoMore, Christian Community Action, Branford Road Race, City of New Haven Arts & Entertainment Commission
SARAH Foundation, The Kennedy Center, The Branford Counseling Center, Camp Rising Sun, Smilow Cancer Center at Yale
Love Promise Stories from Premier Subaru
Subaru and Premier Subaru believe in making a positive impact on the communities in which we live and work. We uphold that belief through our Love Promise Community Commitment. Every month, we select inspiring stories from customers and partners from around our area who strive to support our collective commitment and feature them here
Premier Subaru in Branford CT Donates a vehicle to a U.S. Military Family on Veteran's Day. - Robert A
Premier Subaru in Branford spent this past Veteran's Day showing a local military family how truly appreciated their fallen hero is for his commitment and sacrifice to the U.S. In partnership with the Military Warriors Support Foundation (MWSF), the dealership presented a Subaru Forester to the family of the late U.S. Army Master Sargent Michael David Clark. Rachel was selected to receive a Subaru after applying to MWSF's Transportation4Heroes program, which includes a rigorous vetting process to ensure selected veterans and/or their families are the most deserving recipients. MWSF then worked directly with Premier Auto Group to present the payment-free vehicle in a celebration on Veteran's Day at Premier Subaru in Branford. U.S. Army Master Sergeant Michael David Clark was born in Springfield, Mass. and grew up in Glastonbury, Conn. He joined the military in 2000 and served with honor, receiving several awards throughout his distinguished 22 years of service—including the Bronze Star Medal, Combat Action Badge and Combat Medical Badge. During training at Fort Gordon, Ga., prior to his next deployment, Michael tragically succumbed to injuries sustained in a lightning strike. He is survived by his wife, Rachel, and their two children. Premier Subaru President Bob Alvine was focused on dedicating his auto group's latest giveaway to veterans in acknowledgement of our nation's most cherished individuals. Bob and his team have taken great pride in being able to help Michael's family as they navigate challenging times. The MWSF is a 15-year-old 501(c)(3) non-profit charity founded by Retired LTG Leroy Sisco, with a mission of providing crucial transitional support for our nation's combat-wounded heroes, Gold Star spouses, and their families. Its programs focus on transportation assistance, housing and homeownership, recreational activities, and leadership development. The Foundation is on its way to awarding more than 145 payment-free vehicles and 1,000 mortgage-free homes across all 50 states. Premier Auto Group Subaru joined forces with MWSF for the giveaway, with the Foundation selecting the deserving recipients through their application program and Premier Auto Group donating the brand-new vehicles. The Veteran's Day giveaway supports Subaru's nationwide corporate commitment to giving back. Connecticut's Premier Auto Group is proud to have dedicated its 2022 Veteran's Day to such a worthy cause and honoring two deserving recipients with the gift of safe, reliable transportation.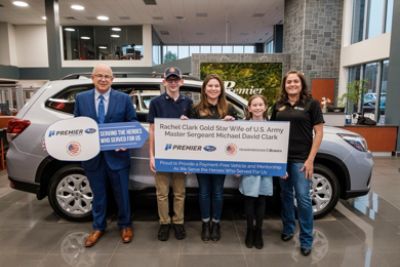 ---
Cats with cerebellar hypoplasia find their forever home - Lena C
While this story doesn't exactly pertain to a Subaru retailer or a Subaru-specific event, we still wanted to share this story about how these two special needs cats got a home and how Subaru as an organization is playing a big role in helping our shelter save more animals' lives. Earlier this year, our shelter, along with many other shelters across Connecticut, were hit with an outbreak of a very contagious and very deadly virus called panleukopenia. It was an extremely stressful time for all of our staff members as we not only had to take all measures to contain the spread of the virus throughout the shelter, but also had to constantly drive back and forth from the emergency vet hospital (which is an hour's drive from our shelter) with the cats that were infected to try to treat them and save their lives. One of our pregnant cats transmitted the virus and while she eventually pulled through, she passed the infection to her unborn kittens and they were all born with cerebellar hypoplasia. Most of the litter did not survive, with the exception of two kittens named Stormy and Drizzle. For months, we drove these kittens to and from specialty vets, went through medications, helped them feed and use the litter box, until they were free of the virus, even if they would have CH for the remainder of their lives and have tremors forever. We're so happy to say that in October, we found one forever home for both of these special-needs kittens. As we prepare for the opening of our new animal shelter, we have been working with Subaru on acquiring two new vehicles for our shelters. These vehicles will be used by the Animal Control Officers of Branford and staff at the shelter to not only carry out all animal control duties, but also transport animals in need, like Stormy and Drizzle, to the emergency, specialty and primary care veterinary hospitals safely. Our shelter has never had a new vehicle, let alone a vehicle outfitted with the needs of animals in mind. Vehicles we use have had holes in them, the doors have come off when opening and shutting them, seats are broken, and have generally been unsafe for both humans and animals. We are so excited and grateful for Subaru for helping us get new vehicles that we can safely use to rescue more animals.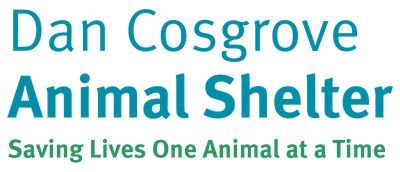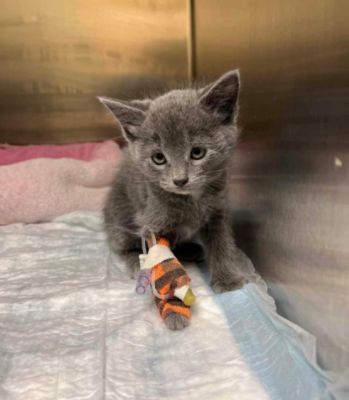 ---
50th Birthday of the Edith B Jackson Child Care Program - Robert A
The Edith B. Jackson Child Care Program was established in 1972 by a group of Yale parents and faculty members in response to the growing need for quality care for children. Dr. Deborah Ferholt (Pediatrician and Associate Professor of Pediatric Nursing) and Dr. Sally Provence (Professor of Pediatrics) developed the EBJ model, with the strong support of the Yale Child Study Center. The program is named in honor of Dr. Edith B. Jackson, a faculty member of the Yale School of Medicine Department of Pediatrics (1923-1959), and a true pioneer in the fields of behavioral pediatrics and child psychiatry. She is well-known for advocating that pediatricians practice anticipatory guidance and assist in the emotional growth and development of young families. Between 1946 and 1953 she directed the Rooming-in Project—where babies stayed with their mothers, instead of spending the majority of the time in the hospital's nursery—and made Yale the center for humanizing hospital experiences surrounding the birth of a baby. It is because of Dr. Jackson that both mothers and fathers of newborns began to have free access to their child while still in the hospital. Throughout her life, Edith B. Jackson was committed to providing the most sensitive care to parents and children. EBJ remains as a living memorial to her lifetime commitment to the welfare of infants, children, and families. In its beginning, the program offered care for young children in the graduate housing apartments at Yale's Whitehall complex, where many of the providers lived. Each provider cared for four children within her home, offering nurturing, small-group care in a family setting. With the generous support of Dr. Albert J. Solnit (Yale Child Study Center), EBJ was able to appoint Lola Nash as its first director. Lola knew that the best child care programs should reflect what is best about family life: "all the support, intimacy, solace, caring for each other and good sibling relationships." In 1989, EBJ restructured its program and began providing center-based care for young children, three months to five years old. The nurturing aspects of in-home care—small groups, continuity of care, and consistency of care giving—remain the important qualities for which EBJ is well known. Still in the Whitehall Graduate Housing complex, EBJ's classrooms now occupy four apartments, each with its own small group of eight or twelve young children and two to three experienced, well-trained teachers. The Child Care Program celebrates it's 50th birthday in the 2022-2023 academic year - and, Premier Subaru is proud to be a sponsor.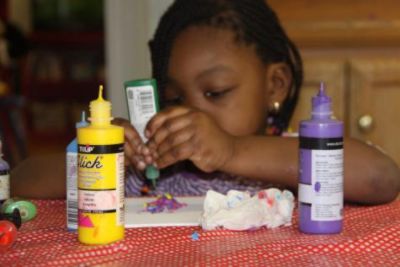 ---
The Best - Kathleen V
I'm on my third Subaru. I have always thought a car buying experience was just that, until now. I was shopping and was at the store when they were giving money to one of many charities they support. They are community! Everyone was so nice and the owner even gave me a dog toy when he found out I was going to Alaska to see my son & grand-dog. My lease limits my miles but I almost want to drive more so I can come back in and see Maegan at the service drive-up. She is so sweet and always has a great smile. Then when my car is ready, they bring it to me. The last store would just point and say it's out there. What a difference! They share the love at this store. Subaru should be proud of them.
---
Walsh Intermediate School Dance Team Goes To Florida - Robert A
Premier Subaru has sponsored the Walsh Intermediate School Dance Team at the National Dance Team Championship in Orlando, Florida. The school was recognized as the National High Kick Champions in 2015-2020 and the 2019 National Hip Hop Champions. Through the year, the Walsh Intermediate School Dance Team from Branford, CT performs at high school football and basketball games, clinics at elementary schools, school variety shows, exhibitions and competitions in Connecticut, New York and Florida. Premier Subaru is proud to continue to support the team as they travel to Florida to compete in the national championships.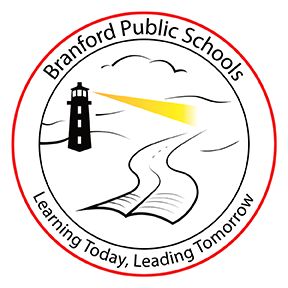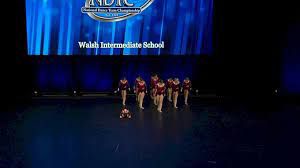 ---
We Cleaned Branford Point - Robert A
The Premier Subaru Team cleaned Branford Point as a part of the 20th annual International Coastal Cleanup and in conjunction with the Save the Sound Organization. The Premier Subaru volunteers were joined by residents of the community to pick up over 80 pounds of trash in just under two hours. Premier Subaru is proud to be a part of this amazing clean up event!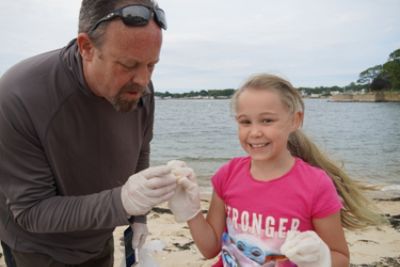 ---
Premier Subaru Involved With Cure Rare Disease - Robert A
Premier Subaru was involved, for the third year in a row, in the annual fundraiser in Branford, Connecticut for Cure Rare Disease as a major sponsor. The proceeds of this fundraiser will go towards the development of customized therapeutics for individuals that have the genetic mutation of the rare disease of Duchenne. For countless patients, having rare and ultra-rare genetic mutations means they are left behind by the pipelines of established biotech companies who remain focused on treatments that impact the greatest numbers of patients. At Cure Rare Disease, their researchers then develop cell lines to test and optimize in-vitro (in a dish) the therapeutic strategy, then in-vivo (in animal models). They work closely with the FDA with an emphasis on patient safety and drug efficacy. As many as 7,000 rare diseases impact up to 30 million Americans. One of them is Duchenne muscular dystrophy, a degenerative condition caused by a mutation on the DMD gene, which is responsible for the production of dystrophin, a protein that helps muscles recover. Traditional one-size-fits-all therapeutics leave millions behind. The revolution in genomics has given Cure Rare Disease the technology to target and treat genetic typos with precision so no patient is left behind. Premier Subaru is proud to provide a financial impact to the individuals behind the amazing organization of Cure Rare Disease in their pursuit for a cure.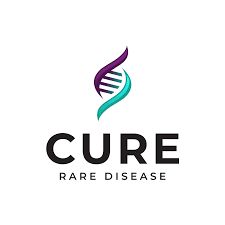 ---
East Haven High School Receives a Donation - Robert A
As a part of the annual Subaru Loves Learning Event, Premier Subaru donated needed school supplies to East Haven High School. The school applied for the need through the Adopt-a-Classroom program. These past two years have been exceptionally challenging for PK-12 educators. Students returned to the classroom with so much learning loss and many social and emotional issues. Premier Subaru is proud to provide some comfort and support to students of East Haven High School through this donation.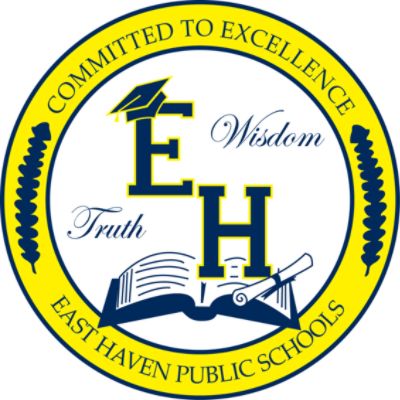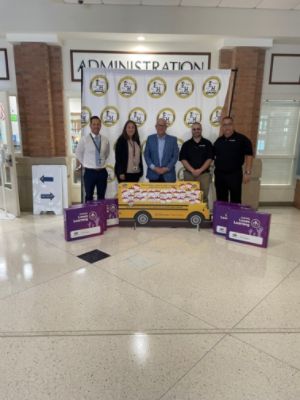 ---
Premier Subaru Sponsors The West Haven Apple Festival - Robert A
For the 11th year in a row, Premier Subaru is sponsoring the West Haven Apple Festival running from September 24-26, 2022. Thousands of people come and enjoy live entertainment from local bands, kids crafts and delicious food. The festival prides itself in offering the West Haven Community a safe and inexpensive - family friendly - weekend. Through the years, the Apple Festival has donated tens of thousands of dollars to community organizations such as Project Hope, Alex's Kitchen (West Haven's only soup kitchen), WHEAT, West Haven Family Resource Center and more. Premier Subaru is so very proud to continue to support this amazing, family friendly, event.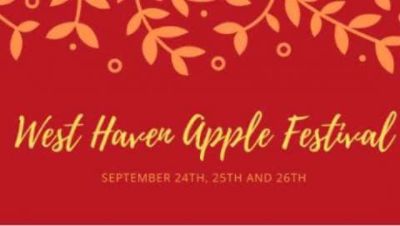 ---
Premier Supports The Branford Gridiron Club - Robert A
The Branford Gridiron Club is a volunteer, mainly parent-run, organization. Their mission is to support the athletes and coaches who are a part of the Branford High School Football Team. It is their goal to maintain and strengthen the great relationships that they have built with the community. Premier Subaru is proud to be a Platinum Sponsor of the Branford Gridiron for 2022. The Branford Gridiron Club provides much needed support for those things the team needs outside of the Athletic Department limited budget. Things such as equipment necessary to support the safety and conditioning of the athletes, summer physical fitness training program, team building activities, sideline Gatorade and food for every player after the games. They also host the senior day dinner - and, celebration dinner at the end of season. Premier Subaru is proud to be a platinum sponsor of this all-volunteer, local organization that promotes the Branford High School football team.
---