Fast & Efficient Subaru Oil Change | Easy Access Fluids




Premier's goal is to provide you the highest quality express service for oil and other fluid changes.  This video demonstrates our investment in the latest technology to have all the oil, lubricant, and other fluids at the fingertips of our Subaru service technicians.  Each fluid is pumped from a central storage area through an advanced delivery system and lines hang from the ceiling for easy access.  Every fluid or oil, from windshield washer fluid to synthetic, is available in each service bay for the fastest and most efficient oil changes in the industry!

 

Oil Changes produce large amounts of waste oil, what does Premier Subaru do with your old oil?

This video will show you one of the oil reuse heaters in our service center.  We collect all waste from oil changes and reuse it in an environmentally friendly way.  Our Eco-Friendly heaters are used for facility comfort control systems and we even pump heated water to several areas of concrete walkways and driveways to melt snow or ice during the harsh winter months.  Premier Subaru has obtained Subaru's elite Eco-Friendly Retailer Status and this is one of the many eco-friendly efforts we make everyday.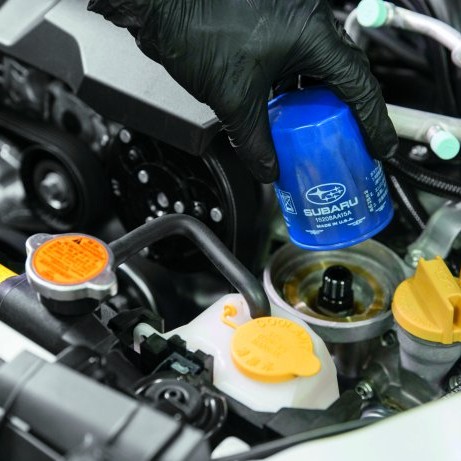 Under the Yellow Cap
Your Subaru uses multiple fluids to help support its various systems and overall vehicle performance. Our factory trained technicians know all about them, and inspect these key fluids during the multi-point inspection. It's important for you to keep an eye on them from time to time. It's simple - just open your hood and look for the yellow caps. For detailed instructions, refer to your Owner's Manual.
Oil changes are also part of
our Express Service program
- just show up, no appointment necessary.
Conventional, Synthetic, High Mileage, that purple stuff?
Between oil changes, Subaru recommends that you check the oil level on your dipstick at every other fuel stop. Depending on your driving style and other conditions, your engine may consume oil more frequently than the recommended oil change intervals. So check the level and top it off if it's low. It's good practice to check vehicle fluids to help ensure your Subaru performs safely. It's easy and anyone can do it. View the videos above to see how you can check your vehicle's fluid levels.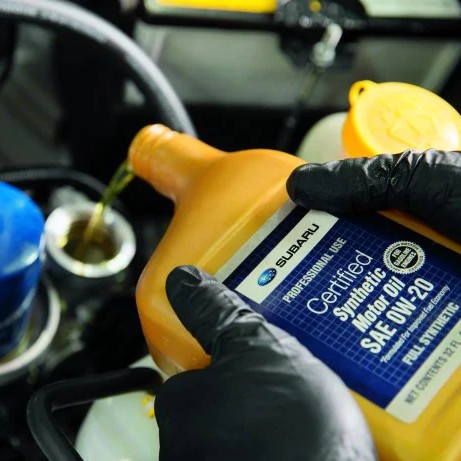 Service Center Hours
Monday

7:00am - 6:00pm

Tuesday

7:00am - 6:00pm

Wednesday

7:00am - 6:00pm

Thursday

7:00am - 6:00pm

Friday

7:00am - 6:00pm

Saturday

7:00am - 4:00pm

Sunday

Closed
*Subaru of America, Inc. recommends using Genuine Subaru Oil or its equivalent. Please refer to your Owner's Manual for detailed information and severe driving condition recommendations.